This Halloween Power Hour Playlist Is Perfect For Drinking With Your Witches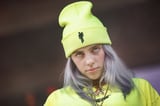 Fact: there are not nearly enough Halloween songs in the world. As
a result, putting together Halloween playlists usually
means just playing "Monster Mash" and the
Ghostbusters' theme song on repeat. But if you and
your witches are in need of some spooky pregame music before
heading out on Halloween night
(or during the entire month of October, because it really is a
marathon and not a sprint), we've put together an hour-long
playlist that's perfect for spooky power hours. And don't worry –
you won't find "Monster Mash" anywhere on this list, because, let's
be honest, that's more for a kid's party, right?
Source: FS – All – Food and Nutrition Blogs
This Halloween Power Hour Playlist Is Perfect For Drinking With Your Witches