I Finally Found the Best Frying Pan – and It Doesn't Stick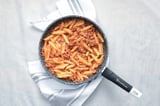 My husband doesn't do a whole lot of cooking. And by that I mean he doesn't do any cooking. But within the last year, he's become a bit of a breakfast buff, happily (albeit, messily) whipping up omelets and scrambles nearly every morning. And while I am usually able to benefit from his stovetop efforts, I can't do so without listening to the relentless scraping that comes after the eggs have been plated . . . the nails-on-a-chalkboard-like sound the spatula makes when he hurriedly tries to get the hardened gunk off the pan. And this was a top of the line, commercial-quality ceramic nonstick pan that rang in at well over the $100 mark.
At some point, he had enough and insisted we get a new one. I naively assumed he just didn't know how to use it. That he wasn't coating it well enough before cooking. But he turned to the internet and started researching. Two days and one Amazon Prime purchase later, a WaxonWare 11-Inch Nonstick Frying Pan & Skillet arrived on our doorstep. I shook my head. How could a website where I buy dog food and batteries know anything about legit, chef-worthy cookware?
We've had the pan for eight months and it cooks everything like a dream, evenly, too, which is a lot to say given that we have a General Electric electric stove from the '50s that cooks nothing evenly. And even after eight months, it still cleans like a breeze – I barely put it in any effort. We've made everything from eggs to chicken piccata to veggie stir-fry on it. Once we even forgot about the eggs, turning an everyday scramble into an accidental frittata, which would have surely sent our previous fancy pan into a headspin. But the WaxonWare didn't flinch. I looked in awe as the 'tata slid off of the pan onto the plate, leaving a mere strip of egg crust on the side that basically fell off as soon as I ran it under water.
The pan comes in 8- and 11-inch options, so if you've grown tired of the post-cooking rigmarole that your current "nonstick" pan puts you through, it may be time to give the WaxonWare a try. I won't use anything else.
Source: popsugar
I Finally Found the Best Frying Pan – and It Doesn't Stick