I Can't Stop Giggling Over This Tiny Dachshund Who Gets Held Up Carrying a Ginormous Stick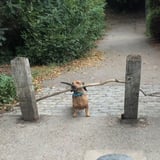 Someone please give a medal to this determined dachshund who
didn't back down – or drop his stick – in the face of a challenge.
In a viral social media video,
little London pup, Bosco, can be seen trying to
walk through two posts while carrying a branch-sized stick. His
owner cheers him along as he puts on a face of pure focus and
cleverly maneuvers around the obstacle. Hey, this is heavy lifting,
guys! Bosco eventually runs happily along the path, only smacking
one other dog in the process. Watch the video above to see his
skillful feat in full.
Source: FS – All – Food and Nutrition Blogs
I Can't Stop Giggling Over This Tiny Dachshund Who Gets Held Up Carrying a Ginormous Stick