Gluten-Free Cherry Cobbler (With a Paleo/Vegan Options)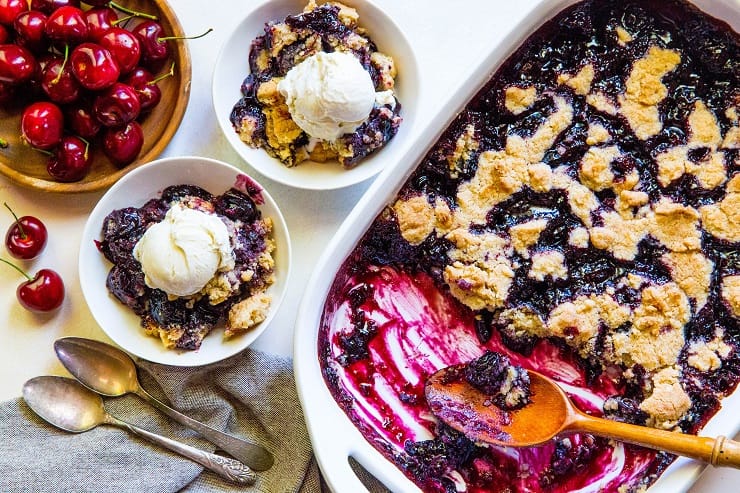 Gluten-free cherry cobbler with a perfectly buttery topping
makes for an incredible dessert to share with loved ones. Use fresh
or frozen cherries for this epic treat! This recipe is refined
sugar free with options to make it paleo or vegan.
Is there anything more attractive than a seasonal fruit-infused
cobbler, crisp, or crumble during the summer months?  I find
desserts using summer fruit are oh-so-satisfying on the taste buds,
and are also a huge crowd-pleaser. BONUS POINTS: they are lots of
fun to prepare!
This gluten-free cherry cobbler recipe is easy as can be and
you'd never guess it is better for you than a traditional
cobbler. All in all, this cherry cobbler recipe is:
Gluten-free (can easily be made paleo – see recipe card
below)
Refined sugar-free
Sweet and buttery
Tastes like traditional cherry cobbler
The benefit to this recipe, aside from the fact that it's
refined sugar-free, is the topping is much easier to prepare than
the classic approach. Traditionally, you would follow the same
procedure as making a pie crust or a biscuit, cutting chilled
butter and water into the dough, then refrigerating the dough prior
to using.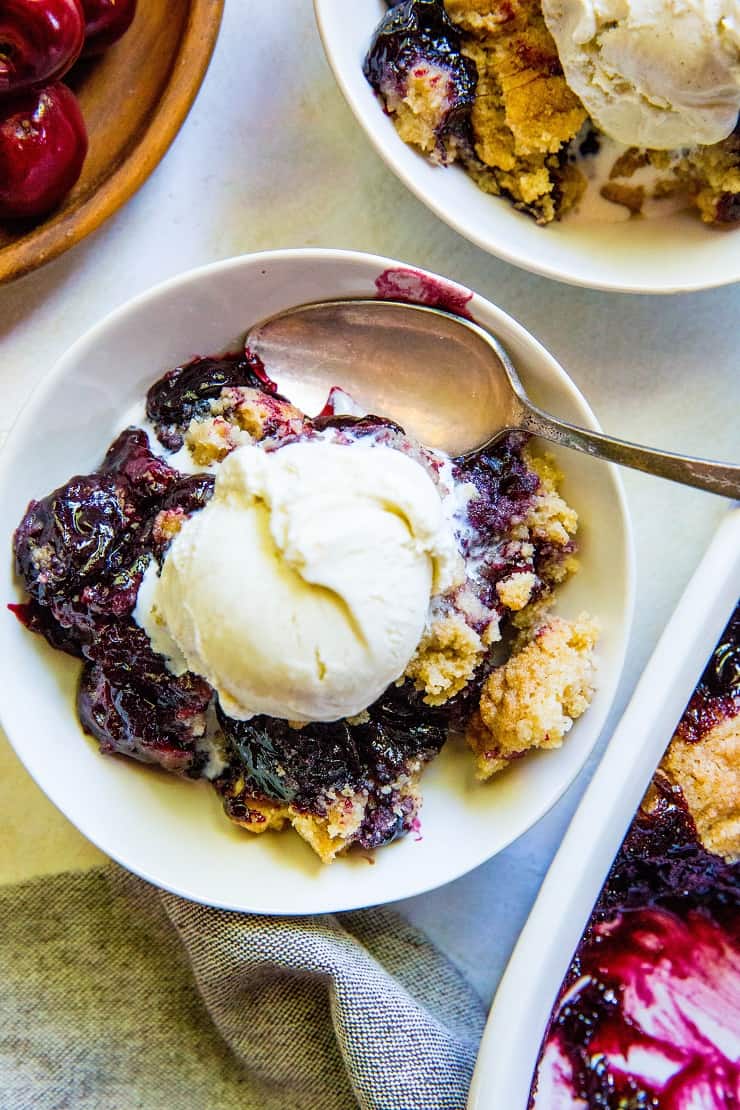 We're skipping all of that with this approach by simply adding
straight up melted ghee (or butter) to the flour mixture to prepare
the topping. The result is the same buttery, flaky, amazingly
delicious topping without all the added effort!
The post Gluten-Free
Cherry Cobbler (With a Paleo/Vegan Options) appeared first on
The Roasted Root.
Source: FS – All – Food and Nutrition Blogs
Gluten-Free Cherry Cobbler (With a Paleo/Vegan Options)