Cinnamon Coke and Winter Spiced Cranberry Sprite Will Sweeten Up This Holiday Season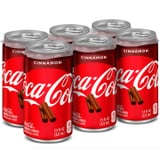 Some of us are still sweating thanks to Summer's high
temperatures, so we could use an excuse to think about Fall and
Winter. Enter Cinnamon Coca-Cola and Winter Spiced Cranberry
Sprite, two new variations of classic drinks that are heading our
way for the holiday season. The
Coca-Cola company announced the two new sodas and confirmed a
national release date of Sept. 30, just as the cool, crisp air will
be creeping in. The limited-edition Coke and Sprite come in festive
cans, which will hang around on shelves until Dec. 31, or while
supplies last. We absolutely think these will make great holiday cocktail mixers for a
splash of sweetness and spice.
Source: FS – All – Food and Nutrition Blogs
Cinnamon Coke and Winter Spiced Cranberry Sprite Will Sweeten Up This Holiday Season