Chocolate Chip Paleo Pumpkin Bread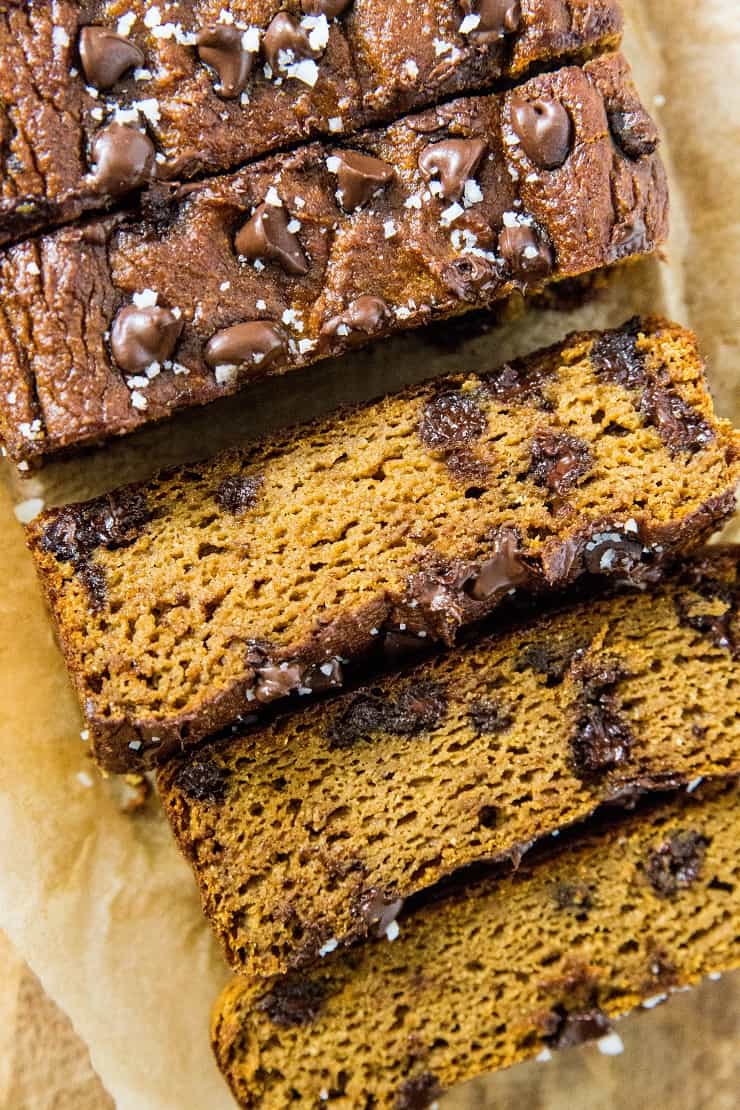 Paleo pumpkin bread made with coconut flour and pure maple syrup
is a cozy slice of fall bliss. Add in some chocolate chips and
sprinkle with sea salt for the most mouth-watering healthy quick
bread!
If you've followed along for a while, you know how I love my
gluten-free sweet and moist breads. There is no shortage of paleo
banana
bread  recipes, muffins, quickbread, and
the like.
What can I say? Girl loves a steamy loaf.
And this loaf is no exception. Pumpkiny, cinnamony, spicy,
chocolaty…all the flavors come together in sweet sweet unity.
Grain-free, refined sugar-free, oil-free, nut-free, and
dairy-free, this bread checks allll the boxes. It's moist, it's
sweet, it's fluffy, it's perfectly spiced with pumpkin pie
spice, and that chocolate-studded goo makes for an ultra addicting
slice.
Whip up a loaf and enjoy it with a mug of coffee or tea for
breakfast or snack!
Just be sure to share…because if you aren't careful,
you'll end up eating slice after slice until all of a sudden
you've consumed more loaf than you thought possible.
The post
Chocolate Chip Paleo Pumpkin Bread appeared first on The Roasted Root.
Source: FS – All – Food and Nutrition Blogs
Chocolate Chip Paleo Pumpkin Bread