101 Unexpected Items Your College Dorm Room Needs – All From Pottery Barn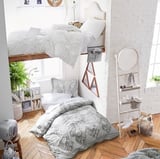 Not to get too ahead of ourselves, but Summer is an ideal time
to begin your college dorm essentials checklist. And
really, we're over the moon for what Pottery
Barn has in store. No matter what your dormitory set-up is –
suite, apartment-style, bedroom – there's a cozy faux fur lounger,
darling desk lamp, and much-needed laundry bag for everyone (and
really, their products are just as good as Target's). A
prompt look through these dorm treasures will send your college packing list into double
(maybe even triple) digits, it's so good. And, because it's Summer,
we expect these items to be in stock for a least a little longer.
Nevertheless, we encourage you to grab 'em before someone else
does! Read ahead for all of our handpicked favorites.
Related:
Calling
All Apartment Dwellers: These 41 Space-Saving Furniture Pieces Will
Change Your Life
Source: FS – All – Food and Nutrition Blogs
101 Unexpected Items Your College Dorm Room Needs – All From Pottery Barn